Pages are being moved ...
The busy metropolis of Sydney is blessed with an abundance of rugged bushland nearby, providing sanctuary and escape from the hectic bustle of modern living. Less than two hours drive away, lie the majestic escarpments and valleys of the Blue Mountains, wherein still lie some most pristine and delicate environments. Visiting these places can require no more than a simple walk along a creek, or may demand bush craft, navigational skills and several days walking just to get there, let alone negotiate the canyon.
The canyon log is my chronological account of the various canyon trips that I have been fortunate enough to invited on, and in some cases, lead.
The trips recorded are CANYON trips, which involve starting high in the range and following a creek or stream as it carves it's way down to the river valley. The Kanangra canyons are generally fairly wide and open. Following the shorter of these is an excersise in abseiling and scrambling. Among the rewards of visiting this area, are the breathtakingly panoramic views along the Kanangra Walls and tributary valleys, as well as the incredible ruggedness of the area.
The Blue Mountains canyons, like Claustral, cut deep into the sandstone below them and over time have worn channels and gutters, deep enough that direct sunlight never reaches the bottom. Walking and swimming through these is a magical tour through a ferny green wonderland. A virtual visit to a lost planet.
I have kept these notes as a reminder to myself of the individual trips, as well as to provide 'some' useful information for following excursions, or to supply to others planning similar outings.
For the ultimate Arm-Chair canyon-climbing-caving experience, you must see The Edge ... Shown in breathtaking IMAX at Katooomba.

With many thanks to my Friends who have all contributed.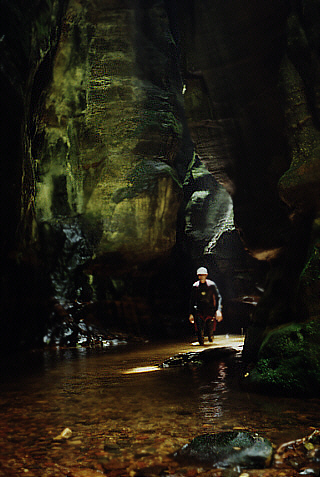 Ed walks out of the Black Hole of Calcutta
'Claustral Canyon'